Accommodating a Void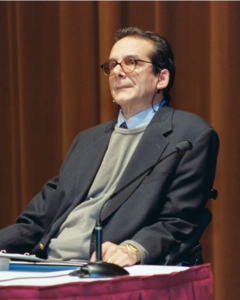 PolicySmith Pays Tribute to Charles Krauthammer
For most of the past year, viewers of Bret Baier's Fox News Special Report have had to endure their favorite news analysis program without its titular head, Charles Krauthammer. Viewers who embraced the erudite, thoughtful, sometimes curmudgeonly Krauthammer will grieve the loss. The far smaller cast of poo-pooers of his views will be relieved to no longer have to confront the depth and breadth of his analysis.
As one grows longer in the tooth, confronting such losses becomes a more familiar exercise, though in some ways more difficult. The more loss one suffers, the greater the burden of grief and the clearer one's own mortality comes into focus.
Knowing that departure from this world is imminent sharpens the focus. One could watch him hold forth and not realize that he was a quadriplegic. His disability is the result of a freak diving accident into a swimming pool when he was graduate student. He was a robust young man felled by the equivalent of a lightning strike.
His plight is one the PolicySmith is intimately familiar. One of our closest Army buddies from the Viet Nam era was employed by the US Forest Service in Colorado following that tour of service. He was walking through a national forest on the Western Slope and a dead tree toppled onto his head, crushing his spine, making him a paraplegic. Charlie Minnemeyer spent the rest of his life in wheelchair.
Like Charles Krauthammer, my buddy Charlie lived as normal a life as possible. He married, had children, enjoyed baseball, hockey and pro football. Following his accident, we accompanied him to a baseball game in Denver at the old Mile High Stadium. The usher was asked if we could walk him in his chair down to the front row, permission was granted.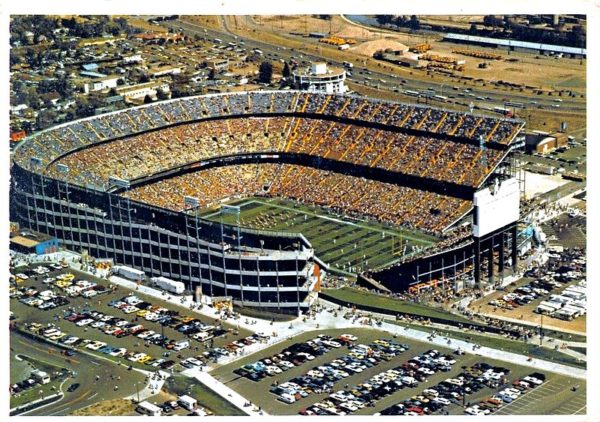 Charlie said, "You don't want to do that, think how hard it will be to pull me all the way back up 30 rows!" We thought about that, about his inability to enjoy what to us was routine. That made it doubly important to restore even that small increment of enjoyment – being near the field. Yes, the haul up the stairs was difficult, but compared with what he endured every day it was as nothing.
Charles Krauthammer too is a baseball fan. Following every home game in Washington, DC, he would be transported from the Fox studios on Capitol Hill to the ballpark. On a good traffic day, he could make it to his seat before the first inning ended. Like my friend Charlie who could no longer ski, play ball, even walk the dog, Charles Krauthammer never dwelled upon his misfortune. Just as it was an inconvenience and annoyance to him, so it was to Charlie. The strength of character to carry on despite the daily obstacles is heroic.
And so it is with Dr. Krauthammer. He attained his MD in Psychiatry, became active in politics working both for President Carter and later Walter Mondale. His analysis of policy and government's workings (or failures) transformed him into a deeply principled Conservative with nearly unparalleled influence.
His was not a world of dogmas and ideology. He lived in a world of hard realities which he incisively purveyed with more than a touch of whimsy and wry observations. Like Dr. Krauthammer, Charlie Minnemeyer had his whimsical side. One day the PolicySmith received an email with an attachment from Charlie. The attachment was a musical number, in fact a piece of yodeling, by a fetching Swiss lass named Melanie Oesch.
I had no idea Charlie was a yodeling fan, but the performance made it clear the yodeling was not the attraction. This angelic young singer had captivated my buddy. Upon voicing admiration for her multiple assets, Charlie said, "When you get to Europe and see her perform, do me a favor. Tell her there's a guy in the U.S. who is in love with her and would have married her if we had only met." If and when the PolicySmith ever crosses paths with Ms. Oesch, he will honor his promise, though it will have to be to tell her there was a guy…
Passing of our great influencers, loved ones, icons and paragons of virtue are especially difficult. We've experienced the voids and know they bring deep grief, sense of loss and realization that the void cannot be filled, only accommodated. Some we've met with an incandescent presence – Jeanne Kirkpatrick, Margaret Thatcher, Dick Clark…and even Tiny Tim leave a lasting impression. Those we idolized as children but never got to meet leave a sense of loss from the innocence of childhood – for the PolicySmith it was Ernie Banks of the Chicago Cubs.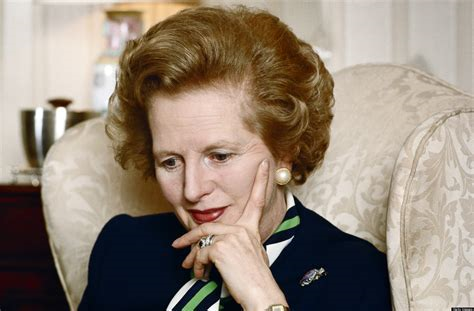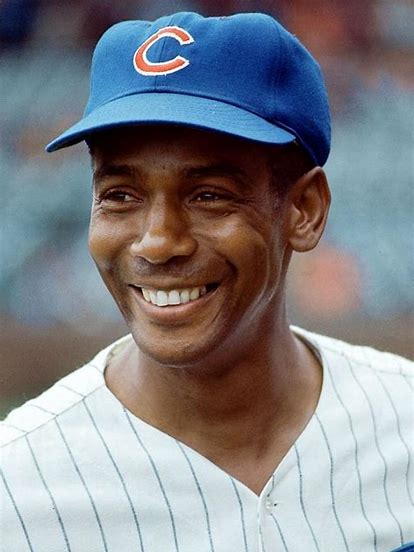 In mere days, Dr. Krauthammer will depart and leave us the poorer in the absence of his wisdom and good humor, for which the public did not particularly become aware. When the PolicySmith met Dr. Krauthammer, he was sitting for photos and greeting attendees at a Weekly Standard conference. I sat down with him for the accompanying photo and said, "I'm grateful for the opportunity to meet you. Thank you for this photo."
He barely audibly and with a slight nod and sly little grin said, "Well, thank you for coming."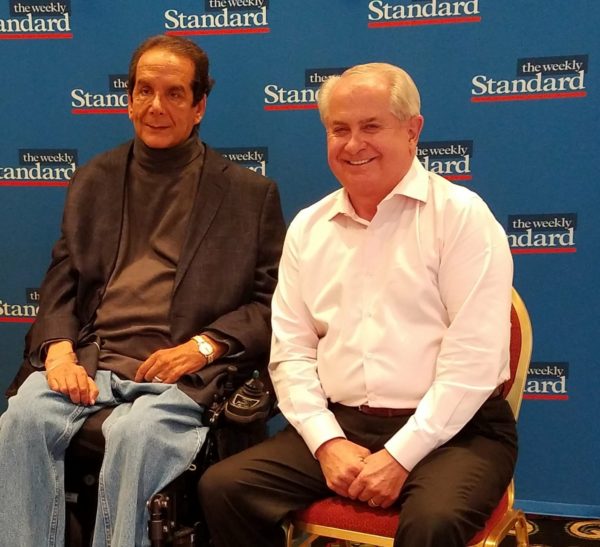 We'll close with one of the purest gems of humor ever, vintage Dr. Krauthammer. He was commenting on the many verbal faux pas by President Trump, when he cited the wrongfooted statement by President Trump referring to "Two Corinthians."
The audience at the Weekly Standard gathering in Colorado Springs giggled in anticipation. Paraphrasing Dr. Krauthammer – Now I am not particularly conversant with the New Testament as I am Jewish and those are not my books. But even I know the New Testament books are First and Second Corinthians, relating to Paul's two letters to the Christians at Corinth. The closest I can come to President Trump's usage – and Dr. Krauthammer paused to savor the delicious punchline he was about to deliver – "Two Corinthians walk into a bar…"
We will miss you, Dr. Krauthammer!