Term Limits – Be Careful What You Ask For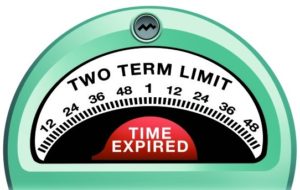 As campaign "hooks" go, "Term Limits" always finds a receptive audience. The desire by an angered element of the electorate to rid itself of the other guy's candidate lurks close to the surface in every campaign cycle. The vitriol on the right toward the Pelosis and Reids of the left is equaled by the like sentiments on the left toward the Lee/Cruz/McConnell group on the right.
Most incumbents run on the notion that their experience in office is of some value and gives strong cause for their reelection. Non-incumbents seek to neutralize that advantage by adopting  other more novel appeals.
In recent campaigns, candidates have run on such quirky concepts as Senate candidate from New Jersey Jeff Bell — the Gold Standard. And, notably, the most recent presidential campaign featured the notions of building a wall on the southern border and Stronger Together, whatever that means.
As 2018 approaches, it appears one candidate for governor of Colorado is going to focus on Term Limits.  A cursory look at this concept gives an understanding of its appeal – your nemesis gets termed out and is gone. But then so does the legislator you admire, and we're back at square one.
Who remains, perpetually unaffected by term limits? The bureaucrats who protect the status quo, who are invested in big government, because their very livelihood is tied in maintaining business as usual. These "public servants" are then the resource for the novice legislator, for a new administration unfamiliar with "how it's done," a role that could be filled in the absence of term limits by a veteran legislator whose institutional knowledge is not necessarily tied up in preserving the status quo.
Another notable element always present in a governing body, and also immune to term limits beyond the paper pushers, the meeting attenders, the policy wonks and the resident "experts," are the lobbyists. Lobbyists are frequently the scourge of those most strident in advancing term limits. By evicting legislators, lobbyists always remain in any Capitol.  Depending on your political persuasion and specific issue, your view may or may not be objectively represented by the lobbying interests.
As the US Constitution specifically provides for petitioning the government, lobbyists are unlikely to lose their voice and influence, which become magnified and grow with enactment of term limits. From this vantage point, elections are the most effective limiter of term of service for legislators. An experienced legislator is unlikely to be captive of a bureaucrat.
A veteran of the political struggles offered a solid piece of advice when considering candidates: Never elect anyone to the best job they ever had, they'll never leave.