Objective Journalist – The Most Endangered of Species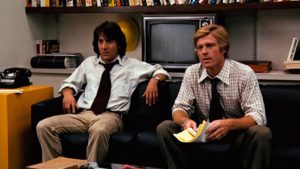 The PolicySmith's recent venture into the world of podcasts released a flood of memories from a past life in broadcast and print journalism.  Experience behind and in front of the camera, as well as experience as the journalist and as the subject of journalists' inquiries, provide insights worth revelation here.
Electronic media has always had a sizable element of show biz.  Television and radio in general are about selling ads, and the news specifically has been a moneymaker for broadcast outlets.  News and sports are the only local hooks for advertisers and sports news has ascended to lead in revenues for local stations.  Pro, college and even high school sports are low cost/high revenue vehicles.
Sports "coverage" slops over into the rest of the newscast as news anchors, often wearing team colors, yuk it up over upcoming games and individual allegiances.  In Denver, the local Broncos radio station recently featured the morning female news reader quizzing one of the coaches on offensive line blocking schemes.  The broadcast axiom "If it bleeds, it leads" does not apply during NFL season.
Real news gets lost in the shuffle as TV stations vie for the hottest weather girl and female anchor.  At Fox News, the inside joke is that the network is "Fair, balanced, and unafraid – and blond!."  The charade of objective network journalism is all but gone as MSNBC and CNN are notoriously liberal, Fox is mainstream conservative with a couple of reactionaries and the token liberal panelist and most of the others are left of center.
Factual information for educated viewers in broadcast news is rare as few anchors, much less street reporters, know much of anything about business or government, and are not required to make more than a half-hearted pass at research on their assignments.  A car wreck, a shooting, police activities (good and bad), traffic hassles, pot (in Colorado and Washington), local government and entertainment require little knowledge and only the "skill" to stand in front of a camera and repeat what people said.
When it comes to an intelligent question on a subject like oil and gas, there is almost no such thing.  The PolicySmith was once asked the unanswerable by a local TV reporter, "What's with all these drillings?"  Of course, the interview request came with the mandatory setting, in front of a gas pump.
At the same station one of the anchors traveled on assignment to Vietnam for a retrospective.  Interviewing a peasant in a rice paddy, the newsie was asked what she did for a living.  She replied, "I'm a news anchor."  He responds, "What's that?"  She answers, "I read people the news."  The absurdity of the anchor's response was in stark contrast to the rejoinder from the peasant who asked, "Why?  Can't they read it themselves?"
After years of bizarre oil and gas coverage in Denver, the PolicySmith offered to sit for interviews at both the CBS and NBC outlets to educate their reporting and production staff on oil and gas.  The offer was to answer any question, provide broadcast quality footage of drilling, pipelines and production facilities.
Such footage could be difficult and expensive to video for a local station.  Not only was it refused, it was cast as an effort to sway reporting staffs who, according to one incredibly arrogant News VP, "…are perfectly capable of covering any story, your propaganda is not required."
However, propaganda and misdirection by pundits on the left are commonplace.  They populate the local fishwraps as these formerly relevant vehicles circle the drain.  Two recent examples:
A September editorial in The Denver Post titled "Insurance hikes will take a toll" carried this concluding paragraph – "We don't really care if it was President Barack Obama's originally flawed plan or President Donald Trump's failed endeavor to that drove the premium increases (average 27% in CO) this year.  We'd just like it to get fixed hopefully before premium increases get set for 2019 and consumers on the individual market will suffer again."
The multitude of misstatements and the dissembling in that single paragraph are breathtaking.  The Post was a vocal supporter of the Affordable Care Act and advocated for its passage despite overwhelming evidence that premiums would increase dramatically in out years following passage.  It is impossible for failed legislation to drive an increase in premiums.  Setting up that straw man is misdirection at its most cynical.
The statement about liking to get it fixed is gratuitous, offering no plan, no course of action because clearly the Post editorial board is incapable of doing the research, the blocking and tackling, to suggest real solutions.  Like so many pundits, the Post is long on palaver and short on substance.  True, resources are constrained at daily newspapers – conglomerate ownership, competition for readers and ads, et al.  Given that, perhaps the Post is well advised to stick to issues within its capabilities.
In the same edition, resident petulant, and ever-angry, Diane Carman seizes on a six-month old budget line item to indict the Administration in general and the President in particular.
She writes that the Trump budget calls for "crippling" the hurricane and tsunami forecasting for the West Coast by a budget cut of 20% and a 17% cut in weather satellites.  "Budget Director Mick Mulvaney argued the administration isn't anti-science but evidence to the contrary couldn't be any clearer."
How about a little context – the budget for the NOAA increased every year to where the annual number was up 33 percent in 2016 over 2010's budget, approaching $6 billion in the final year of the Obama Administration.  Where is the evidence of the agency being at bare bones?  The US is $20+ trillion in debt, the most recent tsunami on the West Coast (actually Alaska) is more than 50 years past, perhaps a paring of the profligate "investments" of the previous eight years is in order.
As for hurricane tracking, it would seem that our Gulf Coast and Atlantic Coast denizens are alert enough to respond to warnings.  Whether the storm lands exactly where predicted or within a 50-mile range makes little difference on the ground.  It's Katy bar the door regardless.
We won't start on the national networks and newspapers – a topic for perhaps another day. The close-ups of the Sam Donaldsons, Dan Rathers, Sean Hannitys, Rachel Maddows and the one-trick-pony Limbaugh of the smirking and preening self-important set must wait.
So, what's the point of the PolicySmith's berating of posturing media hacks?  To provide a stark contrast with a valiant local journalist in Sacramento, California.  Coming up in a 5-part series, the PolicySmith will provide insight and analysis of one of the great untold journalistic achievements in the past several decades.
Pulitzer Prize winning reporter Tom Knudson undertook an in-depth examination of the environmental mega-organizations.  Their funding, fundraising and leadership are examined in detail.  It is impossible to conceive of such a revelatory study being pursued, much less published today by a local newspaper.  Corporate ownership, decimation of want ad revenue by the advent of Craigslist and soaring production and delivery costs have sped the circling of the drain.
Please return, Mr. Knudson's brilliant and intrepid journalistic triumph is reviewed and our next series of essays opens the kimono on Green groups – exposing warts and all.