Thoreau at 200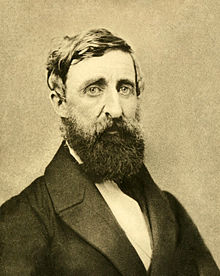 Pencil maker, gardener, surveyor, author/poet, elitist, loner, and poster boy for enviro-purists, Henry David Thoreau, appeared on the Earth in 1817.   This anniversary is celebrated primarily for his revered (by the soft path crowd) work, Walden, and to a lesser degree, Civil Disobedience and other tomes, poetry and tracts.
A relatively harmless oddity in his time, through no conscious intent he laid the groundwork for an environmental movement that developed into a faux religion.  To his credit, he was a vocal and vigorous abolitionist.  His contemporaries encouraged him to explore some of his zanier notions, and the marquee result was the record of his time at Walden Pond, near his Concord home.
These contemporaries in 1836 formed a club labeled "Hedges Club" devoted to exploring liberal concepts.  It was later derogatorily dubbed The Transcendental Club by James Elliot Cabot.  Cabot, a biographer of Ralph Waldo Emerson, wrote of the group as "the occasional meetings of a changing body of liberal thinkers, agreeing in nothing but their liberality" and their idealist frustration with the general state of American culture and society at the time.  Thoreau is credited with coining the ubiquitous phrase, "…march to the beat of a different drummer."
From the ramblings of Thoreau, and those from the Hedges Club and his mentor Emerson, on into the 21st century, to Occupiers, Jerry Brown/Al Gore acolytes and the legions of crackpots assembled to the drumbeat of "Nature – GOOD, Mankind – BAD! one truly inconvenient truth is unassailable.
Three "I" s run the table – Ingenuity, Innovation and Improvements to quality of life.
Life for most has improved and will continue thanks to these three unassailables.  The march of progress in shrinking footprints, efficiency and reduced energy intensity herald a new prosperity, even for the most deprived among us.  Interesting fact: Since 1990 U.S. energy intensity (the unit of energy required to produce one unit of GDP) has declined every year to 60 percent of what it was slightly more than two decades past, according to the International Energy Agency.
These positives haven't slowed the nature boys and girls from railing against the evils of mankind, manufacturing conveniences of all kinds and industrialization.  Thoreau is widely "acclaimed" as the founder of the "Nature" as divine essence…a variation on the pantheism of his mentor, Emerson.  The nub of the philosophy is that an ideal spiritual state transcends the physical and empirical and that one achieves insight via personal intuition rather than religious doctrine.
It seems unlikely that the Universal force is a tapestry of all flora and fauna – of sagebrush, peppergrass blades, house flies and everything else.  Walt Whitman had this Earth-centric pantheist concept as the centerpiece of his turgid, tiresome maunderings in Leaves of Grass and elsewhere.  While Whitman was something of a vagabond, Thoreau engaged in a variety of pursuits, from the trivial to the curious.
Through his various pursuits, he was conflicted, standoffish and essentially humorless.  At various times tutor, schoolmaster, pencil factory employee, surveyor, writer, traveler, poet, ecologist, repairman and gardener.  He employed products of modern society, but lamented the technology that brought them forth.
In this he was the model for the modern enviro and the attendant angst.  They oppose the development of the Earth's resources but blithely utilize the resulting products – automobiles, gasoline, electricity from hydrocarbons, plastics, medicines, cosmetics and the incredible array of innovations that make commerce, leisure pursuits and living controllable and enjoyable.
His two years flying solo at the pond were the model for John Muir, Sierra Club founder.   Muir would disappear in the Sierra Nevada for months and upon returning exult in the cleansing, in the wilderness experience, in the invigoration and dropping such homey observations as, "Man is always and everywhere a blight on the landscape."
A primary difference between the two, Thoreau was only two miles from town at Walden and he heard the train whistle close by multiple times daily.  Waxing poetic on bean fields for multiple pages and scolding those who don't adopt his philosophy and life model grow as tiresome as today's enviro-hectoring.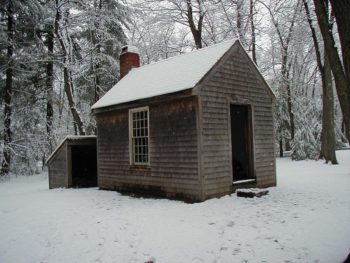 Open the kimono on Thoreau's notions related in Walden and you have the chapter and verse of today's enviro/climate change/renewables/anti-conventional fuels self-congratulatory recipes of the Tom Steyers and Al Gores.  To wit:
"There is no odor so bad as that which arises from goodness tainted. It is human, it is divine, carrion.  If I knew from a certainty that a man was coming to my house with the conscious design of doing me good, I should run for my life…" Economy, Walden.
"I aspire to be acquainted with wiser men than this our Concord soil has produced…it is not all books that are as dull as their readers…" Reading, Walden.
"Many of the phenomena of Winter are suggestive of an inexpressible tenderness and fragile delicacy…with the gentleness of a lover he adorns the tresses of summer." Spring, Walden.
"I came into this world, not chiefly to make this a good place to live in, but to live in it, be it good or bad." Civil Disobedience
His self-aggrandizement and surly demeanor are echoed in today's enviro hysteria and truculence…with a major addition…there's power to be grabbed and money to be made in the enviro game.  Bald intolerance running through Thoreau's work is the hallmark of environmentalist excesses today.  Conventional ideas and images are scorned and attacked until they're reduced to rubble.  Similarly, Thoreau's disdain for his fellow man runs through Walden and elsewhere.  He wrote in 1843, "I walked through New York yesterday – and met no real and living person."
The narcissism and nihilism fairly scream at the reader…not unlike the haughty "I feel so good about me" attitudes of today's provincial "emancipated" know-it-alls on climate change and all things environmental.  No questions may be abided, the science is settled, the planet is doomed, and mankind must be reformed, upbraided, scolded and punished — not necessarily in that order.
The anniversaries of civilization's landmarks famous and infamous alike come and go…many with scarcely a raised eyebrow. Thoreau's mark on civilization, though celebrated in some quarters now, is likely to pale over time.
Up next, 100 years ago inhuman evil up close and personal was birthed with the ascension of Bolshevism in Russia.  This one will never go quietly into the night…