Hail, Hail, Rock 'n Roll!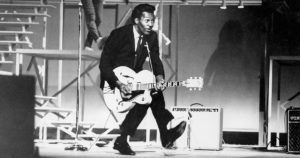 Let's step aside from the headline issues of the day, if only to reflect on the impact of a singular innovator – Chuck Berry.  He changed everything for me when the world seemed a dull, gray angry place.
In my late grammar school years, teachers wore their hair in buns, stuffed a Kleenex up their sleeves, sniffed a lot, and had names like Hazel, Juanita and Marjorie.   For the most part they were a dismal lot – resigned to a solitary life of grading papers and taking summer voyages in steerage to exotic locales to spend their meager earnings.
One night while listening to what WGN Chicago called its Hi-Fi club with Wally Phillips, I was frozen by my first exposure to "School Days."  I didn't know who Chuck Berry was, but I was going to find out.  After a steady diet of "How Much Is That Doggie in the Window?", "Red Sails in the Sunset" and such drek as "The Naughty Lady of Shady Lane," "School Days" followed shortly by "Rock and Roll Music" made the world a whole different place,
The lyrics of "School Days" were a perfect fit – "Gee but the teacher don't know how mean she looks."  And his message was the essence of the mid to late 50s – "You study 'em hard, hopin' to pass.  Working your fingers right down to the bone, the guy behind you won't leave you alone!"
I heard that and thought, "Someone finally gets it!"  Then as the school day ends "down the halls and into the street," then round the bend to the juke joint and the killer line "Hail! Hail rock 'n roll!"  Indeed!  Berry was followed by legions of truly great R&R artists, from Kathy Young's wistful "A Thousand Stars" to Buddy Holly's ode to "Peggy Sue" and the Big Bopper's "Chantilly Lace," timeless classics just kept coming.  And then just a few short days ago, Chuck Berry was gone.
We saw him in concert in the 1970s at Denver's "Turn of the Century Club," it was SRO and a celebration of the Boomers late childhood.  Berry did his patented duck walk to roars of approval and included the now quaintly ribald "My Ding-A-Ling." It was considered quite racy at the time.
Yes, he had a checkered personal life and financial problems dogged him most of his days – no matter.  Front and center was the music – "Roll Over Beethoven," "Maybellene" and "Johnny B. Goode," the country boy who could play a guitar just like ringin' a bell.
Now when his music comes on Sirius Channel 5, you can see that knowing grin, his fingers attacking the guitar strings and feel the energy and know that he loved his music — It brings a smile every time.  Now he is for the ages — Hail! Hail! Chuck Berry!